Bedford High School Class of 1964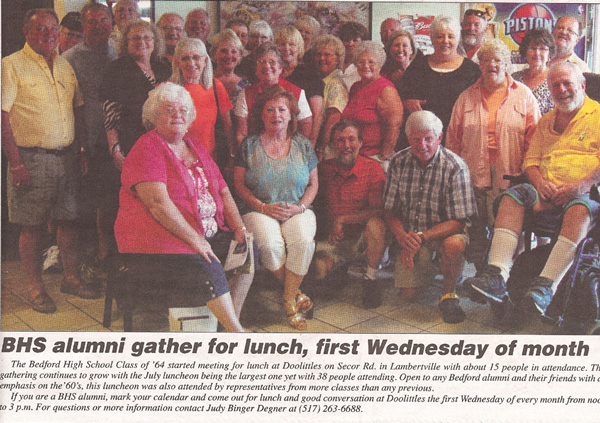 From L-R: Seated or kneeling (L-R): Freda Ray-Zam, Pam Campbell-Shreve, Dave Snouffer, Gene Stock, John Vebenstad.
Standing ( L-R): Doug Bagley, Bob Vandusen, Dave Price, Tom Sorosiak, Cheri Semen-Kolar, Phil Duell, Viginia Carpenter-Pascal, Bill Degner, Jessica Mulcahy-Aldrich, Walt Chany, Dee Woodyard-Frechette, Paulette Brooker-Smith, Donna Rose Warley-Flaczinski, Barbara Bowers-Hampton ,Donna Schnaak-Krezminski, Sue Briskey-LaFountaine, Betty Kleindenst-Arnold, Paul Drayton, Jane O'Connor-Szabo, Judy Brighton-Binger-Degner, Greg D. Smith, Sue Clift-McPherson, Diana Zink-Sayre, Andy Vebenstad
Click here for more info on the monthly lunches at Doolittles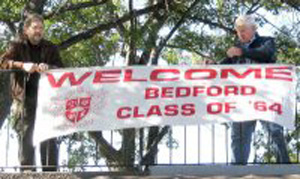 November 2015 Announcement: 70th Birthday Celebration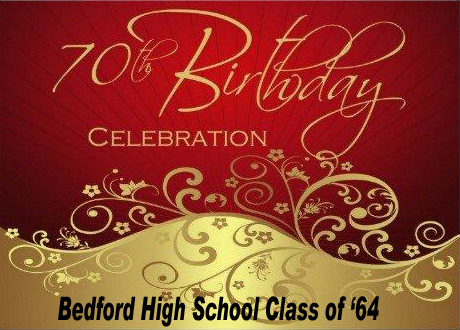 The BHS Class of '64 has announced the details for the 70th Birthday Celebration.
Date: Saturday, September 10, 2016
Location: A J Doolittles at the corner of Consear and Secor Roads in Lambertville, Michigan
Time: 6:00 p.m.
Other events being planned:
Wednesday, September 7, 2015: Lunch at 12:00 noon @ A J Doolittles (This is the regularly scheduled lunch hosted by the Class of '64 the first Wednesday of each month.)
Golf Outing at Bedford Hills Golf Club: TBA
Toledo Hollywood Casino get together: TBA
Bon Fire: TBA
Questions: Contact Judy Brighton Binger Degner
Quick Links: List of those attending 50th. T-Shirt
Obituaries: Click here to view obituaries for the members of the class of '64:
Below are recent obituaries for classmates that may not be on the web page link listed above:
December 2, 2010: Bob Blackman
June 15, 2011: Marilyn Widmer
June 26, 2011: Lance Mason
August 6, 2011: Barb (Lewandowski) Brumfield
October 23, 2011: Jeff Rendle
January 13, 2012: Jerry Trapp
October 16, 2013: Doug Bagley
January 3, 2014: Mary Jo (Kruse) Frohlich
January 26, 2014: Ginger (Carpenter) Pascal
February 5, 2014: Edith (Whitt) Buchinger
February 17, 2014: Nancy (Kahn) Babcock
May 7, 2014: Charlie Vaughn
January 10, 2015: Dave Snouffer
Click here to view BHS Faculty and Staff obituaries
Recent faculty and staff obituaries that may not be on the web page link listed above:
March 23, 2012 Eugene Bohland (Faculty)


Schedule of Events
Wednesday October 1st:
Noon Lunch @ Doolittle's Restaurant & Sports Bar
Consear & Secor Roads

Thursday October 2nd:
7:00 pm Football Game @ Bedford Community Stadium
Jackman & Dean Roads (vs. Ann Arbor Pioneer)
8:30 pm Campfire at Cherie (Stemen) Kolar's home. Click here to view details.

Friday October 3rd:
3:00 pm Meet @ Hollywood Casino Toledo

7:30 pm Get-together @ Doolittle's Restaurant
Consear & Secor Roads

Saturday October 4th
9:00 am Golf Tee Times
Giant Oak Golf Course
Valetta Drive off of Lewis Avenue south of Erie Road

6:00 pm 50th Class Reunion
Giant Oak Golf Course

Sunday October 5th
11:00 am Brunch @ Golden Corral Restaurant
Alexis Road just west of Lewis Avenue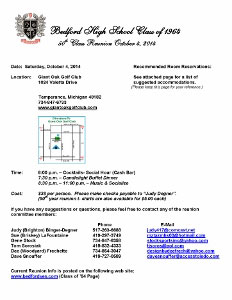 Click here to view all the details concerning the 50th Class Reunion scheduled for October 4, 2014 (3 pages). You can print any or all of the pages.
Page 1: General information concerning the 50th Reunion.
Page 2: Schedule of events for the "50th reunion week" along with suggested accommodations. (Please note that the Football Game has been moved from Friday October 3rd to Thursday October 2nd. The times for various events has been revised. Click on the graphic at the left to view page 2 of 3 pages which contains the schedule of the events).
Page 3: Reunion registration form to be mailed with your check.
The BHS Class of '64 Reunion Committee:
Judy (Brighton) Binger-Degner 517-263-6688 Judy417@comcast.net
Sue (Briskey) LaFountaine 419-297-3749 mztazmhs03@hotmail.com
Tom Sorosiak 419-832-4333 tjsoros@aol.com
Dave Snouffer 419-727-0589 davesnouffer@accesstoledo.com
Gene Stock 734-847-6358 stocksportsinc@yahoo.com
Dee (Woodyard) Frechette 734-854-3047 designbydeefrech@yahoo.com
Thursday, October 2, 2014 Campfire at Cherie Stemen's Home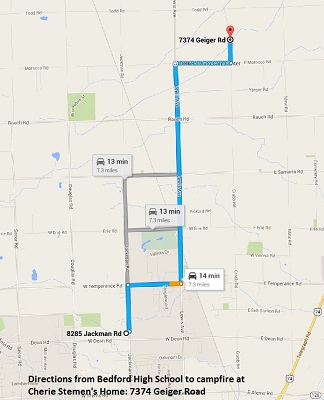 Cherie Stemen (Kolar) is hosting a campfire at her home on Thursday October 2 nd for all '64 classmates. The campfire will start at 8:30 PM for those not going to the Bedford football game and continuing on later for those that wish to come after the game. It's BYOB. Bring a snack to pass and a lawn chair if you can. Her address is 7374 Geiger Road (between Morocco & Todd), Temperance. Geiger Road is a continuation of Crabb Road in Ida.

Cherie & Dave live in the woods in the field behind a yellow farmhouse that is the 6th house on the west side of Geiger Road. There is a green address sign on the mailboxes marked 7374. Attendees should turn into the farmhouse driveway proceeding past the house back to the white story and a half home in the front of the woods. The driveway will still have corn on the north and soy beans on the south of it. There is plenty of parking between and around the house and barn. If you get lost call Cherie's cell phone for directions: 734 777 4331
Directions from Bedford High School (Jackman & Dean) Head north on Jackman Road to Temperance Road (.8 mile), turn right on Temperance Road to Lewis Avenue (1 mile), turn left on Lewis to Morocco Road (4 miles), turn right on Morocco to Geiger Road (1 mile), turn left on Geiger. 7374 Geiger will be on your left approximately ½ mile.
Click here to view and print a large copy of the map and directions to 7374 Geiger Road from Bedford High School (Jackman & Dean)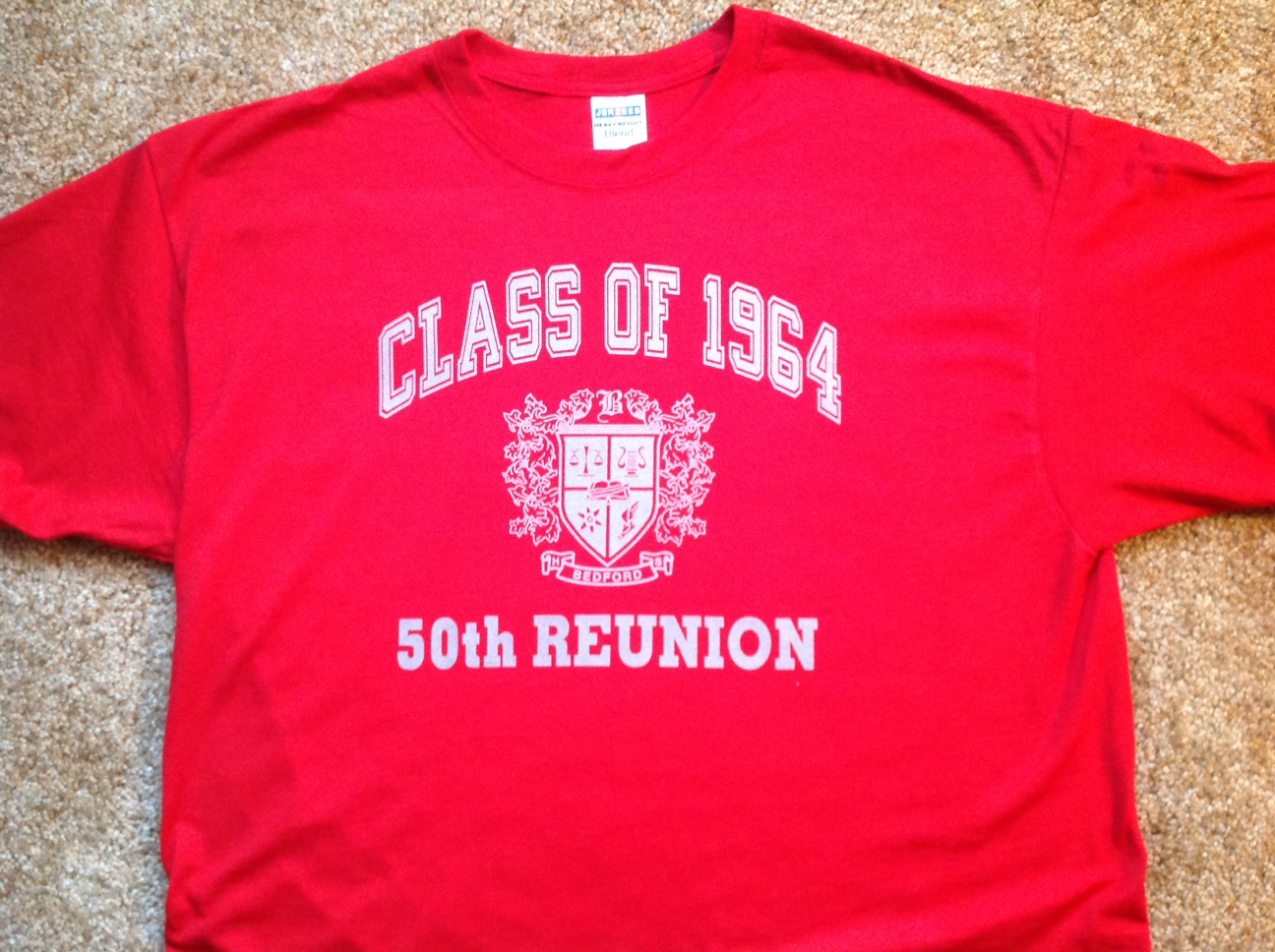 Click here to view a larger photo of the 50th Reunion T-Shirt sample.
The cost to order a shirt after the reunion is:
$5.00 for sizes Small to XL
$7.00 for size 2XL
If you would like your shirt mailed to you, please add $6.00 for shipping & handling. Send your check to the address listed below. If you have any questions please e-mail me.
Stock Sports Inc.
9289 Crabb Road
Temperance, Michigan 48182
Things To Do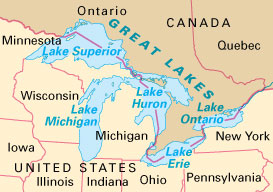 Click here to view a list of things to do and places to visit while attending the 50th Reunion.
Click here to view a list of "Things To Do" compiled by Cherie (Stemen) Kolar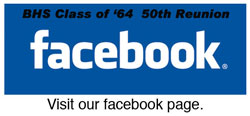 Click here to visit and join our BHS Class of '64 50th Reunion Facebook Page.
Below is a list of classmates that we have received a registration form and plan to attend the 50th Reunion (info up-dated September 21, 2014):
Click here to view the information that classmates sent in with their registration. The list includes dinner menu choice, which events they plan to attend and the size of T-shirt if they ordered one.
Bill Degner
Judy (Brighton) Degner
Sue (Briskey) LaFountaine
Tom Sorosiak & Kathleen Sorosiak
Dee (Woodyard) Frechette & Dave Frechette
Gene Stock & Linda Stock
Paulette (Brooker) Smith
Ken Schultz
Barry Kubitz & Peggy Kubitz
Willis Snyder & Jill Snyder
Andy Vebenstad & Cindy Vebenstad
Shody (Rosselit) Casey
Dan Casey
Keith Elsten & Annette Elston
Charles Clarke & Joan Clarke
Diane Vogeli & Ray Cornprobst
Norm Fisher & Pam Fisher
Nancy (Bius) Vaughn & Kenneth Vaughn
Tom Miller & Judy Miller
Barb (Bowers) Hampton
Susan (Clift) McPherson
Marlene (Koltoniak) Kaufmon & Bill Kaufmon
Gary Fenchuk
Ciro Gonzalez
Micky (Darr) Bell & Guest
Linda Parkinson & Denny
Dave Hudson & JoAnn
Mike Morris
Sue (Sheely) Holmgren & Greg
Donna (Rife) Hiller
Donna (Swisher) White & Danny
Bonnie (Kraft) Halhober & Chuck
Cherie (Stemen) Kolar
Jessica (Mulcahy) Aldrich
Greg W. Smith & Lorene
Juanita (Tippin) Shellito & Clarence
Laura (Belden) Bauley & Richard
Freda (Ray) Zam
Mike Fitzmorris
Dave Price & Mickey
Laura (Nulton) Smith & Guest
Pam (Campbell) Shreve & Ken
Mary Ann (Andrews) Avery
Lyle Denniss & Bernice
Colleen (Angel) Dicknison
Beverly (Baker) Toda
Linda (Lewark) Peterson
Phil Duell & Linda
Bob VanDusen & Carol
Dru (Drinkhouse) McAllister
Dan West & Judy
Pat Keane & Peggy
Letha (Ledyard) Gascay & Barb Ledyard
Jim Sugg & Judy
Sandra (Kahle) Rooyakkers & Guest
James Piorkowski & Carol
Lee Travis & Loretta
David Schumann & Anne
Barbara (Behan) Schmitt & Robert
Fred Durbin & Rosemary
Jack Eaton & Linda
Wayne Roberts
Renata Jamantos
Bob Kurth & Linda (will not attend reunion but will attend various events)
Diana (Zink) Sayre
Dora Cressy
Fred Beaubien
John Shuey
Dave Snouffer
Dave Whaley & Carolyn
Don Freeman & Margie
TENTATIVE:
Dave Rudy/Wife
Greg D. Smith/Guest
The following classmates have responded that they will unable to attend the 50th Reunion:
Jerry Grimes
Joyce (Zielinski) Szymanski
Nancy Dove Wiggins
Duane Tucker
Marilyn (Troutner) McColgan
Jacqueline (White) Walker
Dale Bennett
Jim Balk
Dick LaMunyon
Ron Turski
Tom Banks
Sharon (Stubleski) Schaefer
Doug Kish
Dave Ott
Denny Burkhart
Janice Denbroder
Kathy (Lilly) Patton
Eben Graves
Melinda Motes
Bud Old
Roger Upp
Pam (Seals) Upp
Carol Rosencrantz
Janice Shanteau
Patti Shea
Kathy Shrider
Gene Sims
Gary Smith
Tom Stubleski
Dorothy Westover
Christine Wills
Judy (Thompson) Purse
Nick Snyder
Addresses Needed: If you know the addresses for the following classmates please sent them to Judy Brighton Degner (Her contact info is listed above)
Carlton Eckhard
Nancy Gabringer
Robert Kurth
Kathy Lilly
June 10, 2012:

The date and location has been set for the 50th Class Reunion. Click on the graphic on the left to view the details.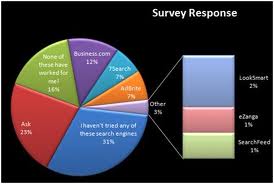 Click on the graphic to view a copy of the 50th Reunion Survey Results (as of June 1, 2012).
Thanks to the following 76 classmates who have responded to the survey or questionnaire as of this date. (November 11, 2012) If you did not not receive a survey or questionnaire, just click here and follow the directions. For more information concerning the survey that was e-mailed to classmates, please see the info posted below.
Barb Alexander
Mary Ann Andrews
Bev Baker
Jim Balk
Tom Banks
Barb Behan
Mary Jo Bork
Barb Bowers Hampton
Judy Brighton
Sue Briskey
Jerry Brunt
Judy Brunt
Pam Campbell
Ginger Carpenter
Dan Casey
Charles Clarke
Sue Clift
Michelle Darr
Bill Degner
Janice Denbroeder
Dru Drinkhouse
Jack Eaton
Keith Elston
Gary Fenchuk
Norm Fisher
Linda Godfrey
Jerry Grimes
Dave Hudson
John Paul Jones II
Sandy Kahle
Nancy Kahn
Pat Keane
Doug Kish
Carol Krasniewski
Mary Jo Kruse
Linda Lewark
Sandee McKeand
Jim Meinhart
Judy Miller-West
Tom Miller
Mike Morris
Laura Nulton
Jim Piorkowski
Freda Ray
Donna Rife
Wayne Roberts
Shody Rosselit
Dave Rudy
Ken Schultz
Pam Seals
Linda Shea-Parkinson
Patti Shea
Sue Sheely
Gary Smith
Greg D. Smith
Greg W. Smith
Dave Snouffer
Tom Sorosiak
Cherie Stemen
Gene Stock
Sharon Stubleski
Jim Sugg
Donna Swisher
Judy Thompson
Duane Tucker
Roger Upp
Bob Vandusen
Andy Vebenstad
Diane Vogeli
Dan West
Dave Whaley
LeRoy Whittaker
Dee Woodyard
Richard Wotring
Joyce Zielinski
Diana Zink
If you have an e-mail address for any of the following classmates please send them to Gene Stock
John Andrews
Pat Bailey
Raymond H.Bair Jr.
Beverly Baker
Sandra Hoak Baker
Laura Belden
Dale Bennett
Nancy Bius
Bill Bledsoe-Rose
Fred Bonn
Gail Cannon
Ginger Clemson
Aaron Dodd
Candice Dodds
Joyce Donbrowsky
Phillip Duell
Carlton Eckard
Kenneth J. Fletcher
Nancy Gabringer
Richard Gattes
Ciro Gonzalez
Eben Graves
Dale Green
Andy Halhober
Kenny Harbaugh
David Hoover
Jerry Hubbard
Renata Jomantos
Douglas Kish
Marlene Koltoniak
Carol Krasniewski
Letha Ledyard
Richard Mabus
Carol Morse
Melinda Motes
Terry Mowery
Bud Old
Michaelene Osemlak
Linda Pancoast
Orville Raker
Bonnie Roberts
Carol Rosencrantz
Diane Ross
Patricia Samsel
Janice Shanteau
David Siedlecki
Gene Sims
Patricia Smith
Charlotte Snyder
Linda Snyder
Nick Snyder
Larry Spotts
Tom Stubleski
Dale Suchocki
Sandra Suffety
Janice Surface
Marilyn Troutner
Carolyn Warner Turnbloom
Nancy Turnbull
Linda Turski
Ron Turski
Linda VanKleeck
Louis Vogel
Tom Volrath
Bev Walentowski
Rick Waller
Norman Webber
Harry Whitt
Leroy Whittaker
Norma Whittenburg
Mary Wiegand
Christine Wills
We would like to invite all Bedford High School Class of '64 members (and spouses) to join us on Facebook.

We have a Facebook page called "Bedford High School Class of 1964". For further information please contact Gene Stock. Please join us! Just click here to sign up for Facebook. If you are currently on Facebook, please invite any of the names listed below who are not on your "Friends List." simply put the name in the search box at the right top corner of all FB pages, click and the name should appear. Then send an invitation. If you know of anybody else from the Class of '64 who does not have a Facebook account, either invite them yourself from FB or email me with their name and email address. We also would like to encourage all BHS faculty members and administrators who were at Bedford from 1951-1964 to join our Facebook page. Listed below is a current list of members from the Class of '64.
Click here to go to the Bedford High School Class of '64 Facebook Page
Current members of the Class of '64 who are on Facebook:
Barb Alexander, Mary Ann Andrews, Colleen Angell, Doug Bagley, James Balk, Doug Bagley (Sharon),Barbara Behan, William Blaesing, Mary Jo Bork, Barbara Bowers, Judy Brighton, Susan Briskey, Paulette, Brooker, Pamela, Campbell, Virginia Carpenter, Dan Casey (Charlotte Rosselit), Cathy Clarkson, Charles Clark, Susan Clift, Dora Cressy, Michelle Darr, Bill Degner, Leo Delangis, Janice Denbroeder, Lyle Denniss, Drucella Drinkhouse, Fredrick Durbin, Keith Elsten, Drexel Ferguson, Norm Fisher, Michael Fitzmorris, Linda Godfrey, Jerry Grimes, Lynda Hise, David Hudson, John Paul Jones, Sandra Kahle, Bonnie Kraft, Mary Jo Kruse, Richard LaMunyon, Linda Lewark, Kathy Lilly-Patton, Lucy Macut, Sandra McKeand, James Meinhart, Thomas Miller, Laura Nulton, Annie Nusbaum, Jane O'Connor, Dennis Oswalt, Dave Ott, David Price, Freda Ray, Donna Rife, Wayne Roberts, David Rudey, David Schumann, Patricia Shea, John Shuey, Gary Smith, Greg D. Smith, David Snouffer, Willis Snyder, Cherie Stemen, Gene Stock, Sharon Stubleski, Jim Sugg, Donna Swisher, Judy Thompson, Juanita Tippin, Roger Upp (Pam Seals), Robert VanDusen, Charles Vaughn, Andrew Vebenstad, Diane Vogeli, Daniel West, Dorothy Westover, David Whaley, Carol Wintersteen, Dee Woodyard, Richard Wotring, Joyce Zielinski, Diana Zink
Class of '64 Web Site (This site was developed by classmate Dave Snouffer)

Click on image to visit our Class of '64 Web Site !!!!!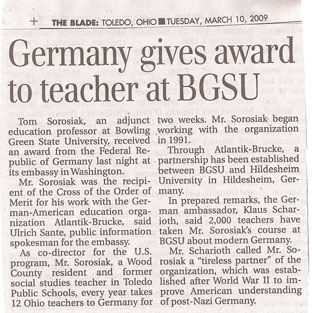 Reunion Archives: (If you have photos of past reunions that you would like to share on this web page, please contact Gene Stock)
45th Class Reunion (Giant Oak)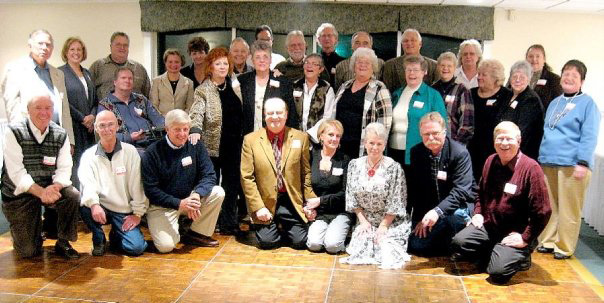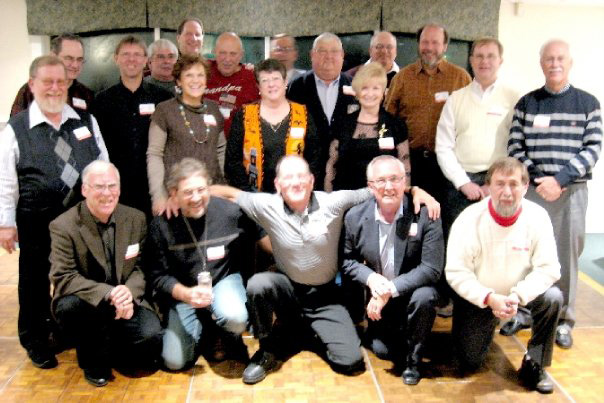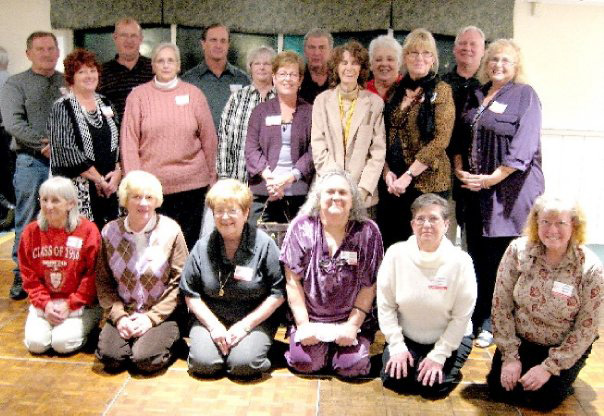 60th Birthday Party (Giant Oak)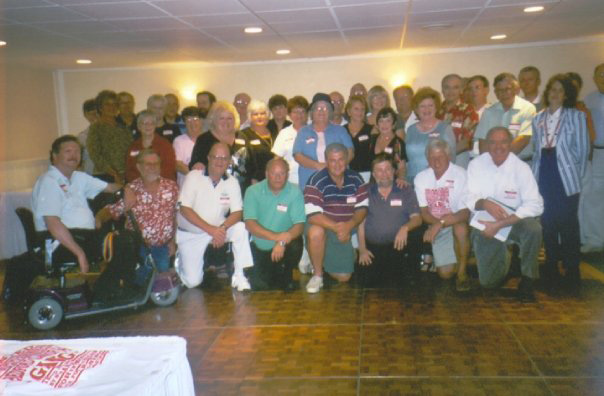 40th Class Reunion (Giant Oak)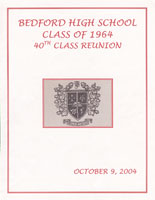 To download a printable copy of the BHS Class of 1964 40th Class Reunion booklet just click on image to the left.
30th Class Reunion (Holiday Inn - French Quarter)
25th Class Reunion (Conn Weissenberger Legion Hall)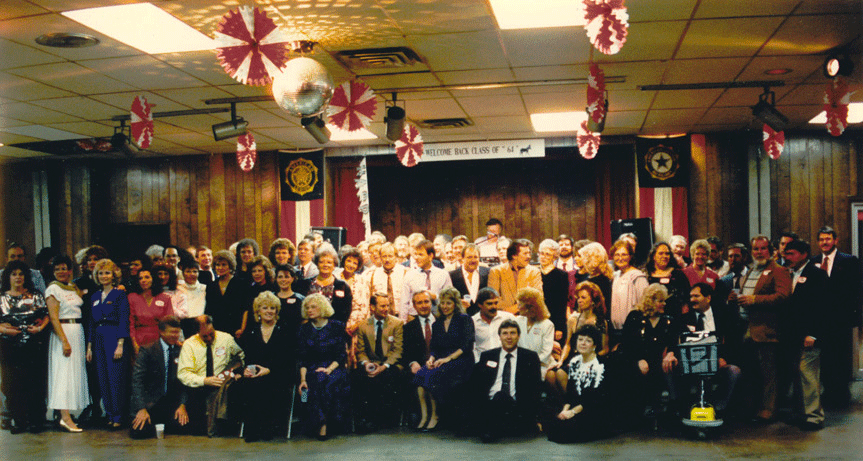 20th Class Reunion (Riverside Hospital Banquet Room)
Click here to view a copy of the 20th Reunion Program
10th Class Reunion (Holiday Inn Manhattan Blvd)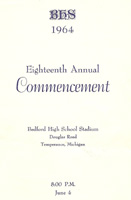 Click on the graphic on the left to view a copy of the Class of 1964 Commencement Program
Click here to view a copy of the Class of 1964 Baccalaureate Program
Click here to view a copy of the Goalpost for May 22, 1964
Click here to view a copy of the Goalpost Senior Supplement from 1964
Click here to view a copy of the Goalpost articles concerning the Senior Play in 1964
Click here to view a copy of the Goalpost articles "Patty and Linda About Town"

BHS on Douglas Road (before and after demolition photos from Judy Brighton-Binger-Degner)